---
"I think the first half of your life, you're trying to find out who you are, and you're kind of knocking yourself against things, and testing things the whole time, to help sculpt yourself. Then later, when you get as close to sculpted as possible, you're, like, don't touch anything, in case it changes me."

Phoebe Waller-Bridge
---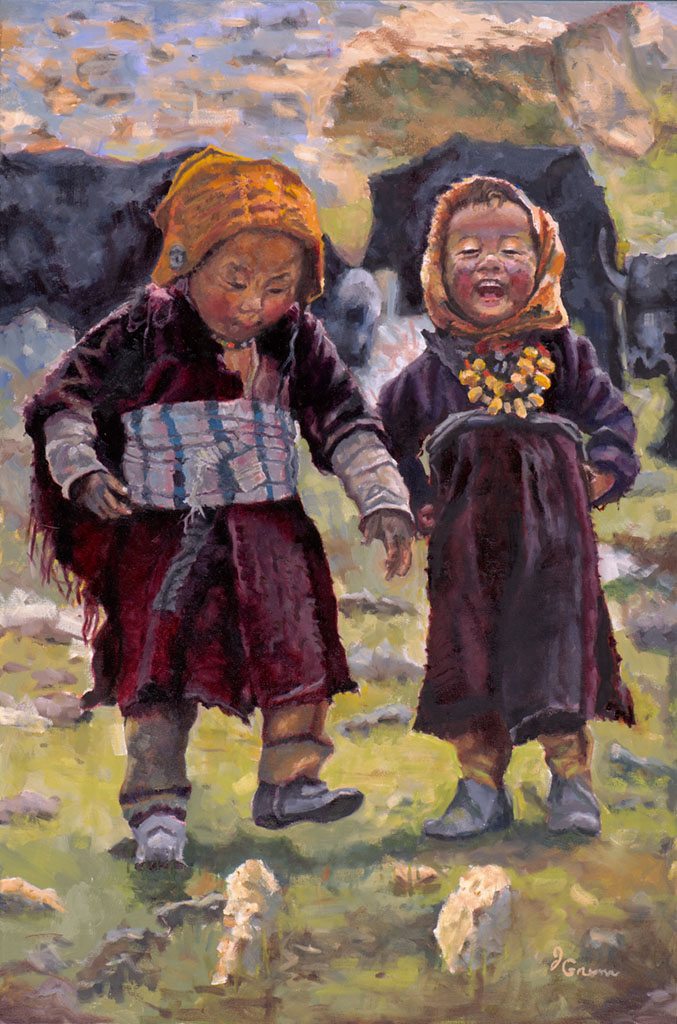 Angels With Dirty Faces by Joe Grenn
Angels With Dirty Faces portrays two young girls on the way home. It was inspired by my travels in Southeast Asia and reveals my interest in painting narratives of native people not yet influenced by Western civilization. (Oil on canvas, 30″ x 40″)
---

Andy Warhol
The coal miner's son who made it big time in the Big Apple and perhaps spawned the Kardashian rage and Instagram. I always wondered what the big deal was with Andy Warhol's art. But the more I read about Andy Warhol, the more I appreciated his contributions.
Stephen Metcalf's "Warhol's Bleak Prophecy" in the January/February 21019 Atlantic Monthy was the most elucidating. Andy in 1968 coined the phrase "In the future, everyone will be world-famous for 15 minutes". It looks like he got a little more than his fifteen minutes.
Andrew Warhola (his Slovakian name) was born in 1928 in Mihova, Slovakia to a coal miner's impoverished working-class family. His first home was a tar papered shack. His father passed away when Andy was thirteen and left him some postal bonds. They enabled him to attend Carnegie Tech as the first person in his family to attend college.
After his graduation in 1949, Andy quickly became the best shoe drawer in New York City and supplied weakly footwear ads to the New York Times. Soon he was doing Christmas cards for Tiffany and perfume ads for Bonwit Teller. His technique was tracing a sketch in ink, then pressing the wet ink against a piece of absorbent blotting paper to transfer the image.
His non-painterly style withdrew the image from space and time, making it flat and deathlessly still. He was able to give his human subjects the same inhuman flavor as that of his iconic Coke bottle.
What I missed all along was Andy's incredible instinct, taste, sense of proportion and color and pure guile.
Andy's biggest contribution was his attempt to turn over all human activity, no matter how sacred, to the marketplace. He pioneered self commodification and may have been the precursor to the Kardashians mania, Instagram, and neoliberalism. As Stephan Metcalf says, "Cold and mute is Pop Art. That is Andy Warhol. He rewrote everything that came before him."
As Metcalf points out, Warhol's canvases were expressively vacant and cold and suggested that the "spiritual eye" never existed in the first place. Some say Warhol wanted to be Gretta Garbo or Marilyn Monroe. Other iconic figures who obviously won more than their fifteen minutes of fame.
By the end of the 1950s, he was famous and his "cockroach period" where his roommates were insects ended. He moved up to a townhouse at Lexington Avenue and 89th. He knew to be an expressive fine artist was all but to admit that he was gay.
His first gallery exhibition in 1952 entitled "Fifteen Drawings Based on the Writings of Truman Capote" was too vague and unworldly for the times. The breakthrough came in 1960 with his two paintings if a Coke bottle. This was the beginning of his Pop mode. He became thrilled with the effect of reproducing a photograph of silk-screen and turning a stolen image into a kind of painting where, when the screen clotted with the paint, imperfect duplications made for variations. It was simple, quick and chancy. He could hide his touch, express his sexual identity and renunciate the machismo of the abstract expressionists.
In 1963, he moved into his 47th Street space called the Factory. In 1964 he opened the doors for his Brillo Boxes exhibit at the Stable Gallery and the doors to the Factory and the events were swamped with visitors.
Andy was a disciplined and hard worker, pretending that he did nothing. Unfortunately, that attracted a lot of badly weakened souls who wanted the fame without working for it. Andy's comments on the stir he caused? In black and white footage from the old Factory days, all he says is "Fudge".
So the next time we hear about the Kardashians or use Instagram, it may remind us of how Andy Warhol may have started it all.
---
Did You Know?

Stars
There are more stars in the universe than seconds that have passed since the Earth formed, more stars than words and sounds ever uttered by all humans who ever lived.
Air
A single breath of air draws in more air molecules than there are breaths of air in the Earth's entire atmosphere. So the air you breathe was once in the lungs of Beethoven, Lincoln and Billy the Kid.
Water
There are more molecules of water in a cup than there are cups of water in all the world's oceans. Every cup that passes through you eventually ends up in every other cup of water in the world. So some of the water you just drank passed through the kidneys of Socrates, Joan of Arc and King Henry the Eighth.
From Neil deGrasse Tyson's "Astrophysics for People in a Hurry", a fantastic read for the scientist in us all.
---