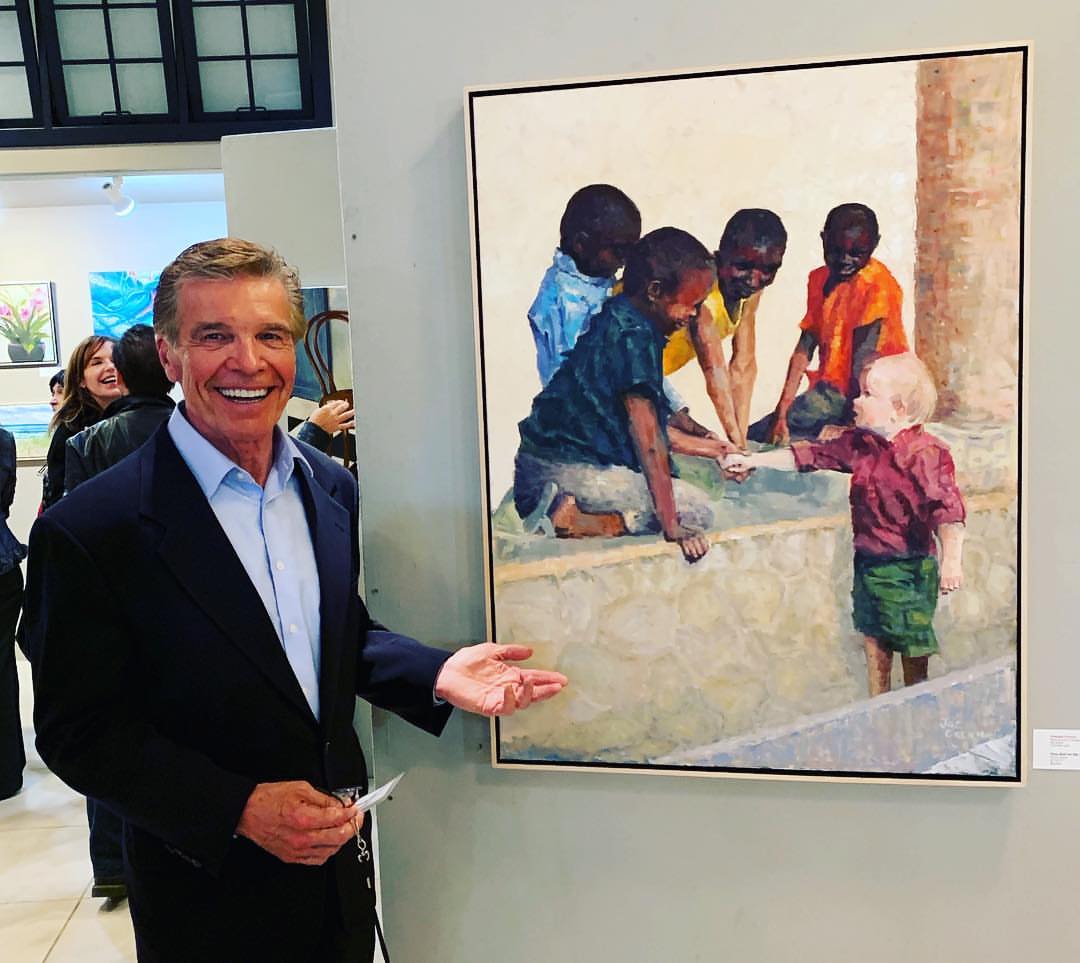 Joe is a native of New Bedford, Massachusetts. He received both Bachelor of Science and a Doctor of Dental Medicine degrees from Tufts University and completed a postdoctoral fellowship in endodontics at Harvard University in 1972. He subsequently moved to San Francisco, established and maintained a private practice, lectured internationally and was a clinical professor at the University of California School of Dentistry form 1972 until his retirement in 2015.
Joe has since dedicated his time to his long-time love of oil painting and is the recipient of numerous awards for his paintings in oil on canvas. Joe seeks to share special moments in time in his portraits, figures and landscapes. He is particularly interested in portraying the joy found in cultures not yet influenced by modern society.
Joe's art can be seen on his web site joegrenn.com (where one can subscribe to his newsletter, Joe Grenn's Wonderful World of Art) and is represented on lagunaarts.com and Marinopenstudios.org. He can be found on Instagram at instagram.com/joegrennart.
Joe is a board member and vice president of the Marin Society of Artists and a member of the Marin Open Studios Boards of Directors and is, in addition, a member of the Laguna Plein Air Society, California Art Club and New York's Salmagundi Club.
Juried into Marin Fair
2015
For "Kira in Venice"
Honorable mention in the juried Marin Fair
2016
For "The Taking of Christ"
Second place in the Marin Society of Artists juried show "1515 People's Choice Award"
2016
For "The Taking of Christ"
Featured Artist in Marin Society of Artists
April 2016 to June 2106
Honorable Mention in Marin Society of Artists juried show "In Your Dreams"
October 1, 2016
For "St. Francis in Ecstacy"
Honorable Mention in Marin Society of Artists juried show "In Your Dreams"
October 1, 2016
For "Wilanowa"
Honorable Mention in Bauhaus Gallery juried show
October 28, 2015
For "After the Rain"
Honorable Mention in Bauhaus Gallery juried show
October 28, 2015
For "Les Beaux des Provence"
Honorable mention Marin Society of Artists juried show "Members Show"
November 1, 2016
For "Rodeo Beach"
Featured Artist at Marin Society of Artists
December 2016 to February 2107
Honorable mention in Marin Society of Artists juried show "Two of a Kind"
For "Zwanda" and "Chinois"
Second place in Marin Society of Artists juried show "Atmospheric Wonders"
For "Les Baux des Provence"
Honorable Mention in Bauhaus Gallery juried show "The Figure"
March 14, 2017
For "Thea"
Juried into Marin Fair 2017
For "Thea"
Juried into Marin Fair 2017
For "Kira in Black"
Featured Artist at Marin Society of Artists
March 2017 to May 2017
Featured Artist at Marin Society of Artists
June 2017 to August 2017
Honorable Mention in Marin Society of Artists juried show "Down on the Corner"
August 8, 2017
For "After the Rain"
Honorable Mention in Sacramento Society of Artists juried show "Painting in the Style of the Masters"
September 2, 2017
For "The Taking of Christ, After Caravaggio"
Honorable Mention in Sacramento Society of Artists juried show "Painting in the Style of the Masters"September 2, 2017
For "Le Frere , After Theodore Gericault's Portrait of a Kleptomaniac"
Juried into California Plein Air Painters 2017 International Challenge Exhibit
September 2017
For "Vernazza"
Third Place in Bauhaus Gallery juried show "The Figure"
May 19, 2018
For "Rio"
Noteworthy in Bauhaus Gallery juried show "The Figure"
May 19, 2018
For "The World is Watching"
Honorable mention Marin Fair 2018
For "The World is Watching"
Produced "Celebrating Life" , a July and August, 2018 show in Tiburon Town Hall
Accepted "Rodeo Beach" in "Coast to Coast" juried show September, 2018
Best in Show, First Place in "Coast to Coast" juried show
September 2018
For"The World Is Watching"
Four paintings chosen on 12/4/18 to be published in the first edition of new art publication, Salann Magazine
"The World is Watching," "Les Baux de Provence," "Convento dei Frati Cappuccini " and "Zimbabwe"
Noteworthy, in Bauhaus Gallery juried show, "Landscapes, Cityscapes & Interiors"
October 2018
For "Les Baux de Provence"
Noteworthy, in Bauhaus Gallery juried show, "Landscapes, Cityscapes & Interiors"
October 2018
For "Convento dei Frati Cappuccini"
Second place in Marin Society of Artists juried show "Artist's Way"
May 2019
For "New Kid on the Block"
Third place in juried Marin County Fair
May 2019
For "Freedom"
Special Award from Segar Gray Gallery in juried Marin County Fair
May 2019
For "Zimbabwe"
Selected in Bold Brush Painting Competition "FAV %15" (Jury's favorite 15% of entries)
May 2019
First place in Marin Society of Artists "Tail End of Summer "
June 2019
For "Zimbabwe"
Second place in Marin Society of Artists "Artist's View"
November 2019
For "New Kid on the Block"