---
"If you are a little off, it's a mistake. If you're a lot off, you're Goya or Picasso."

Unknown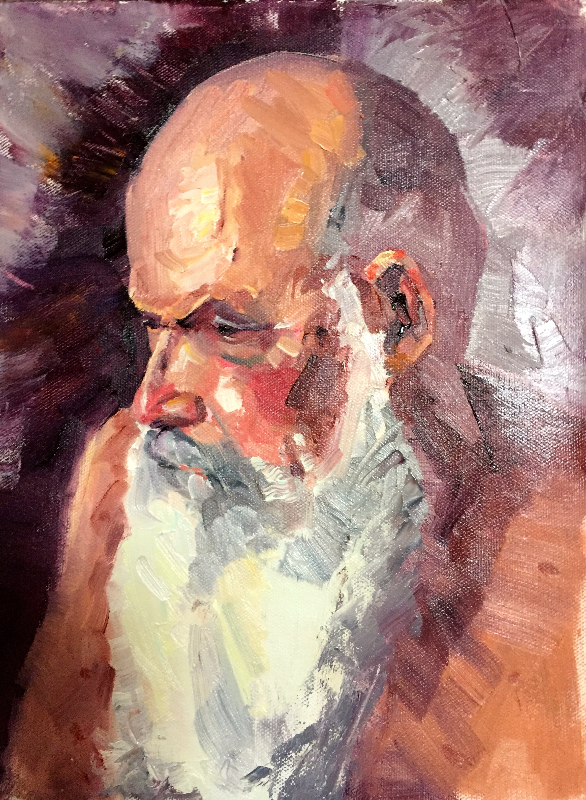 Moses by Joe Grenn
Whenever friends discover that I paint nude models, I usually get a lot of raised eyebrows and "oo la la's", probably thinking the model would be a beautiful young woman. But you never know. One day, at Indian Valley College, there was an elderly bearded gentleman modeling nude.  I painted him all day in different poses. With an hour to go, I realized he would a great subject for a portrait and quickly painted it. I created an abstract radiant background for him and named him Moses.
This was a good lesson for me that painting live forces the artist to get down key information rapidly, and in doing so, gives vitality to the painting.  When I had my next open studio, I thought no-one would buy a painting of an old, bald, bearded man. So I was surprised when it sold within hours. Moses now spends most of his time in Arizona. Wish he were here sometimes.
In the Bay Area, there are always venues welcoming anyone to draw or paint the nude for a very small fee. They include, among others, College of Marin, Indian Valley College, Marin Society of Artists and Marin Art School.  (If you would like to learn to paint or draw, Dorallen Davis runs an incredible one-of-a-kind program at the latter.) Everyone is welcome in any of the venues, even if they can only draw stick figures.
In addition, the  Bay Area Models Guild conducts a "Drawing Marathon" every three months. Anyone can go for the day, no experience or talent needed, again for a very modest fee. There are usually a number of models sitting in many rooms. The artist can move from room to room all day, selecting a model that he or she finds interesting.
Some interesting anecdotes. I was painting a very nice young couple at one of the Marathons and, when conversing with them, found that they were actually doing community service. Hmmm. I guess they were given a choice of picking up litter or modeling nude and chose the latter. On another occasion in Sante Fe, the model was a beautiful young woman with one addition, an eight-foot boa constrictor that slithered over her as she modeled motionless and completely undaunted. However, the snake was very uncooperative in holding still. So you never know. 
---
Art News 
I am happy and humbled to report that I received the following awards since my June newsletter.
Second place in Marin Society of Artists' "Artists View" competition.
Third place at the Marin County Fair for "Freedom" (It was  sold to a collector from Singapore at a record price for me. I would say I can start thinking about quitting my day job but I've already finished my 25,000 root canals.)
The Special Award at the Marin County Fair for "ZImabwe" from the very prestigious Seager Gray Gallery in Mill Valley.
---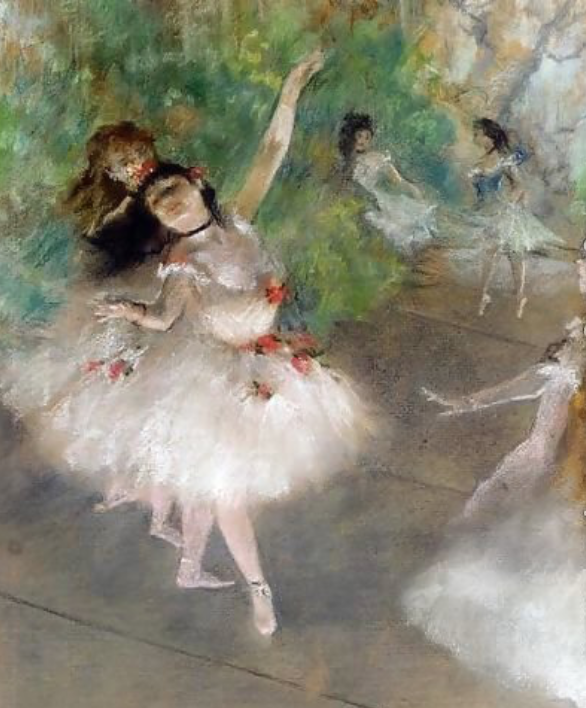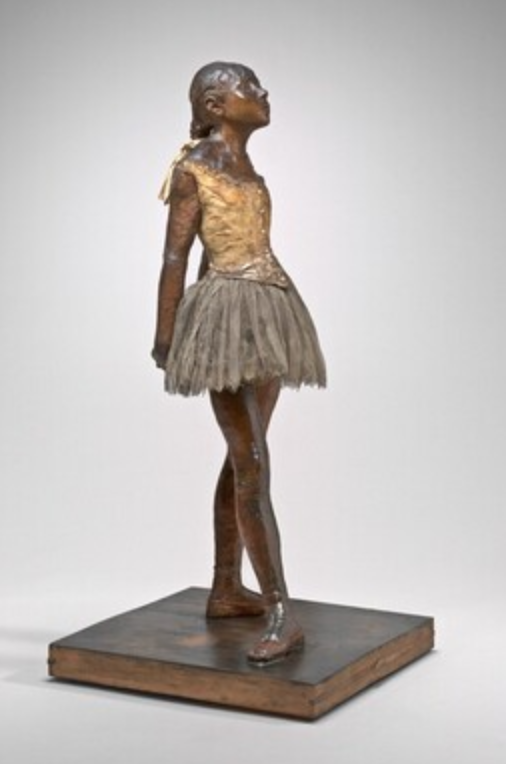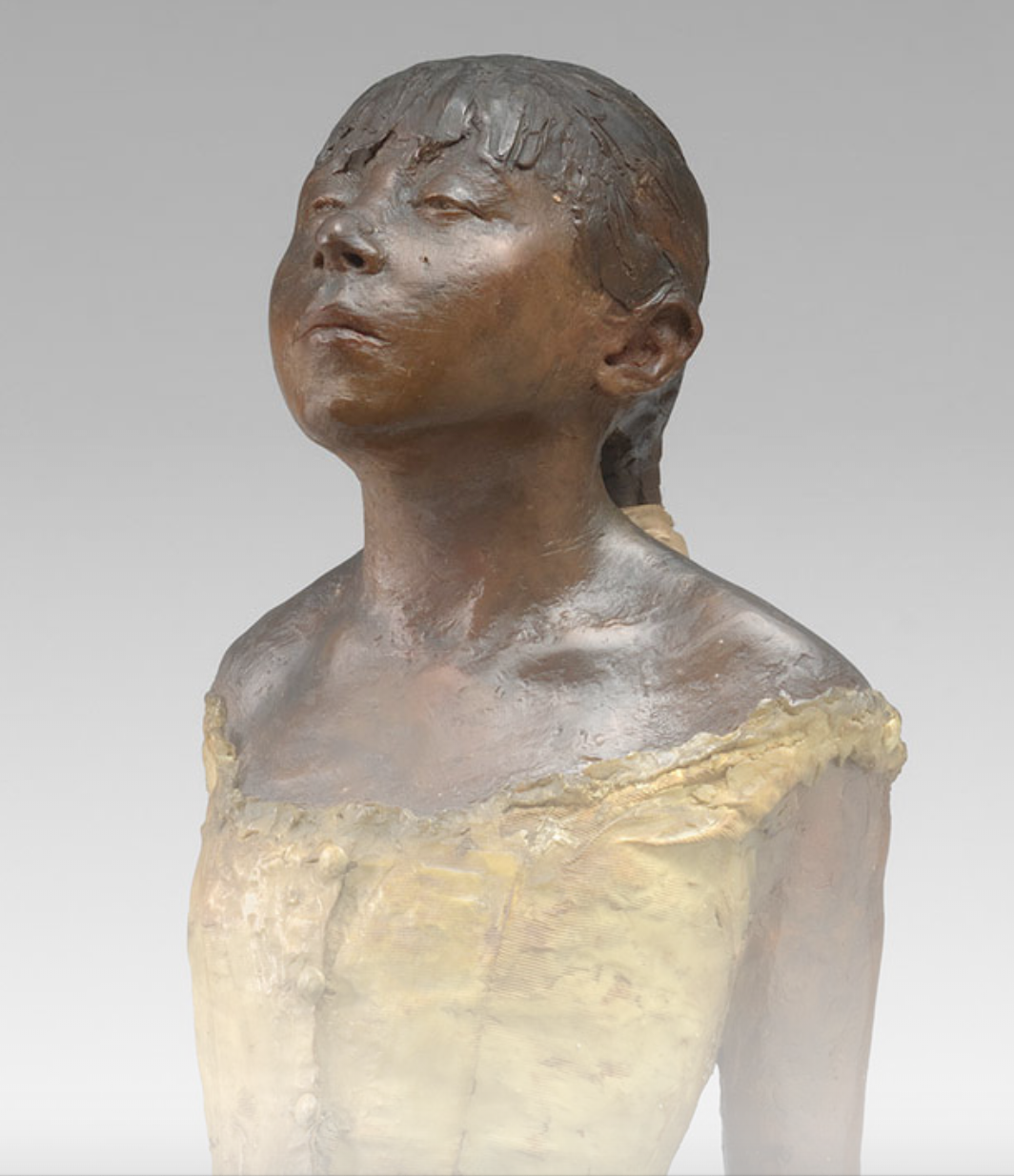 Little Dancer Aged Fourteen
by Edgar Degas
Edgar Degas is renowned for his beautiful paintings of the world of the Paris Ballet. His portrayal of the beauty, romance, elegance, and sophistication of the ballet are indelibly written in the history of art.  But Degas was also a renowned sculptor. His Little Dancer Aged Fourteen or the Petite Danseuse is considered a masterpiece. But what really went on behind the scenes in the Paris ballet is a different story, dark and scandalous.  And Little Dancer tells us the truth in her silence.
I once saw the Petite Danseuse at a Legion of Honor Degas show in San Francisco. For what I thought would be an adorable little dancer, I sensed something eery about her appearance. In a 2018 Wall Steet Journal article review by Moira Hodgson of the book Little Dancer Aged Fourteen by  Camille Laurens, I found out why.  
According to Laurens, when the LIttle Dancer was first exhibited in Paris in 1881, it caused quite a scandal. Degas was no Renoir in depicting women. He was an unsentimental realist. Her chin jutted out defiantly, her eyes half closed as if to shut out the world, her face old and drawn before it's time. The little girl who modeled for it was Marie Genevieve van Goethem and was a "petit rat", as the Paris Opera Ballet students were called. She was the second of three sisters who were enrolled in the Paris Opera.
But by the 1870s, the golden age of Romantic Ballet was over. Working conditions were appalling. The girls starting as young a six, desperately poor, working six long days a week, with no schooling and many lured into prostitution by the cigar smoking men in black hats that lurked around the dressing rooms of the opera house. Normal practice was pedophilia, pimping and corruption of minors. Ballet dancers became synonymous with corruption and indecency. In Little Dancer Aged Fourteen, Laurens writes that Degas shows us "not the object of distraction and delight but the subject grappling with a sinister reality".
According to Hodgson, Degas was well known for his fascination with physiognomy (facial features). To him, they reflected one's morality. He even attended a famous trial of three murderers, exaggerating their facial features in his drawings to make them more sinister.
Marie's future crime of prostitution was written on her face by Degas. She was a child but already a lost soul. Modeling for Degas eventually cost Maria her job at the Paris Opera for absenteeism. Little information is known about her after that. Her younger sister went on to be a teacher and her older one went to prison for prostitution.
Today, Hodgson points out, ballet-mad little girls decorate their bedrooms with smaller versions of Marie, totally unaware of their little dancer's brutal destitute life.
The masterpiece was included in the Sixth Exhibition of Impressionist Art in Paris in 1881. It was the only sculpture Degas exhibited in his life. The provocative and ground-breaking mixed-media sculpture, with its surprisingly harsh realism, was not well-received. Its rejection and condemnation by a number of prominent critics discouraged Degas from ever publicly showing sculpture again. However, sculpture remained a private life-long passion and pursuit known only to his friends and fellow artists, many of whom applauded him as the first modern sculptor. After his death in 1917, copies of the little ballerinas were cast in bronze and distributed to museums around the world. 
The sculpture is one-third life size and was originally sculpted in wax, a somewhat unusual choice of medium for the time. It is dressed in a real bodice, tutu and ballet slippers and has a wig of real hair. All but a hair ribbon and the tutu are covered in wax.
Upon Degas's death, approximately 150 wax and modeling clay sculptures in various states of completion and repair were found in his studio. His heirs and colleagues recognized the importance of preserving them for posterity and selected the best 73 examples to be cast in bronze. The 28 bronze repetitions of Petite Danseuse that appear in museums and galleries around the world today were cast after Degas' death. The tutus worn by the bronzes vary from museum to museum.
---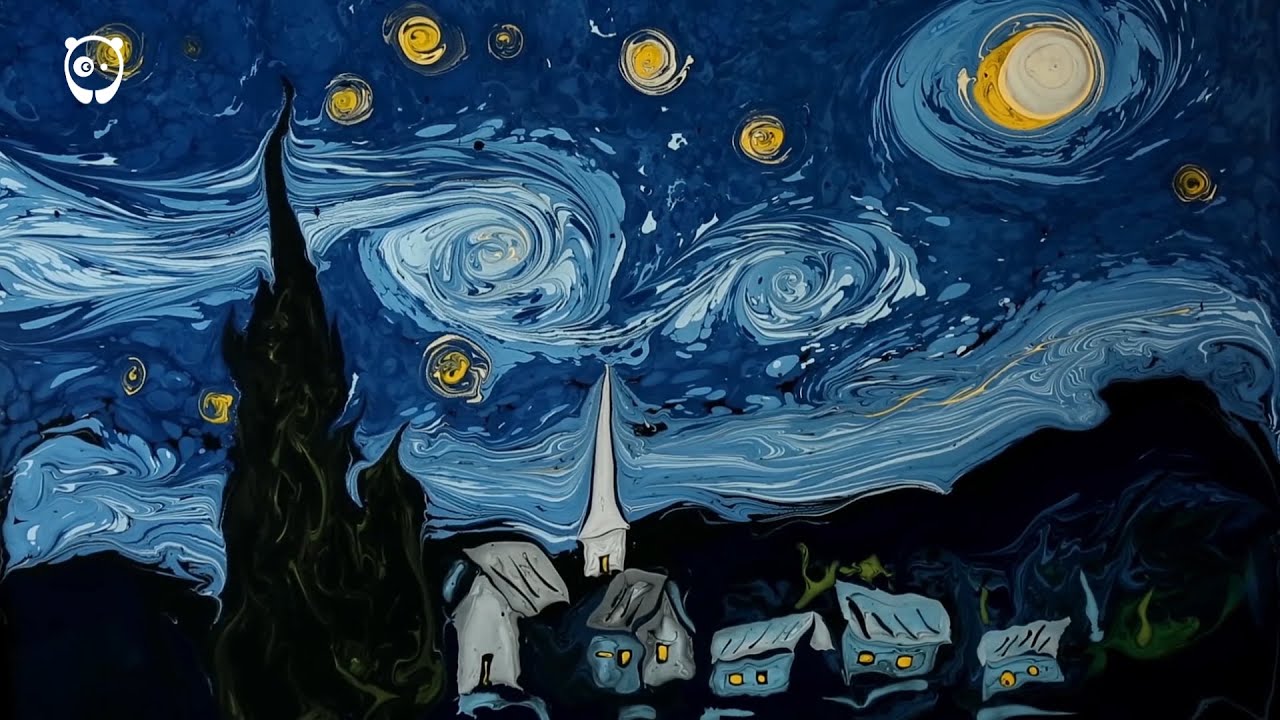 The Starry Night by Vincent Van Gogh
Below are Don McLean's beautiful lyrics in his song Vincent. An homage to the incredible Vincent Van Gogh. If you have a few minutes, listen to the song. 

Starry, starry night
Paint your palette blue and grey
Look out on a summer's day
With eyes that know the darkness in my soul.

Shadows on the hills
Sketch the trees and the daffodils
Catch the breeze and the winter chills
In colors on the snowy linen land.

Now I understand
What you tried to say to me
And how you suffered for your sanity
And how you tried to set them free
They would not listen, they did not know how
Perhaps they'll listen now.

Starry, starry night
Flaming flowers that brightly blaze
Swirling clouds in violet haze
Reflect in Vincent's eyes of china blue
Colors changing hue
Morning fields of amber grain
Weathered faces lined in pain
Are soothed beneath the artist's loving hand.

Now I understand
What you tried to say to me
And how you suffered for your sanity
And how you tried to set them free
They would not listen, they did not know how
Perhaps they'll listen now.

For they could not love you
But still your love was true
And when no hope was left in sight
On that starry, starry night
You took your life, as lovers often do
But I could have told you, Vincent
This world was never meant for one
As beautiful as you.

Starry, starry night
Portraits hung in empty halls
Frameless heads on nameless walls
With eyes that watch the world and can't forget
Like the strangers that you've met
The ragged men in the ragged clothes
The silver thorn, a bloody rose
Lie crushed and broken on the virgin snow.

Now I think I know
What you tried to say to me
And how you suffered for your sanity
And how you tried to set them free
They would not listen, they're not listening still
Perhaps they never will.
---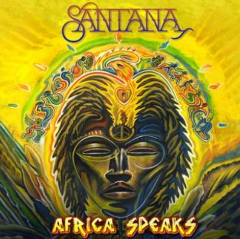 Carlos Santana's New Album – Africa Speaks
The fiercest album to come out of Marin's Carlos Santana in fifty years features the sensational Spanish singer Concha Buika. When she was told by her agent that Santana wanted her to sing, she said "I was like, no! I was so nervous and excited, I couldn't believe it."
Thinking she would be a guest vocalist on a song or two, she arrived at producer Rick Rubin's studio in Malibu for the recording sessions. Instead, she became the singer and co-writer of every song on the album.
Santana, at 71, plays a slash and burn attack on his guitar. "The main thing is to give a nice juicy hug to that note. There's a time to get a hug and a time to scratch like a mean tiger or leopard. And there's a lot of that on this album." Producer Rubin says "It's a dense, complicated work that's just very groovy." 
Bujka stated, " It is very easy for people to understand your music when you tell your real truth, when you don't hide anything." Santana is now on tour celebrating the 20th anniversary of his "Supernatural " album (it sold 15 million copies) and the 50th anniversary of his barn-burning Woodstock set.
You have to wonder where the time goes. One thing for sure, Santana proves there's such a thing as timelessness.
---