---
"Whenever I have to choose between two evils, I always choose the one I haven't tried before."

Mae West
---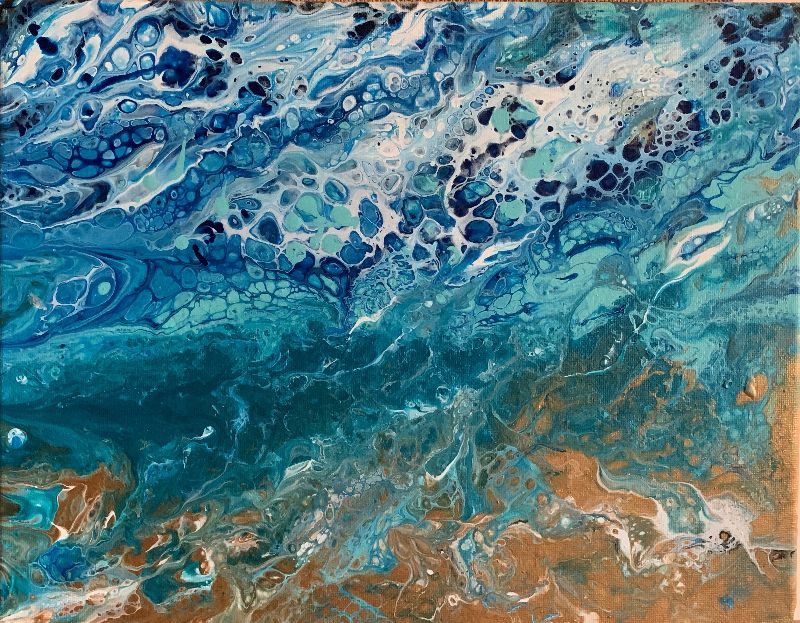 As much fun as it can be, painting can require long and tedious hours of work. So I decided to have a little fun with acrylic pouring. This is my very first try. Proves anybody can be an artist. I called it Maui Dreams. Thanks to the very talented Ronile Valenza at Marin Society of Artists for teaching me this fascinating technique. If you too would like to learn it, contact her at ronileart@comcast.net.
---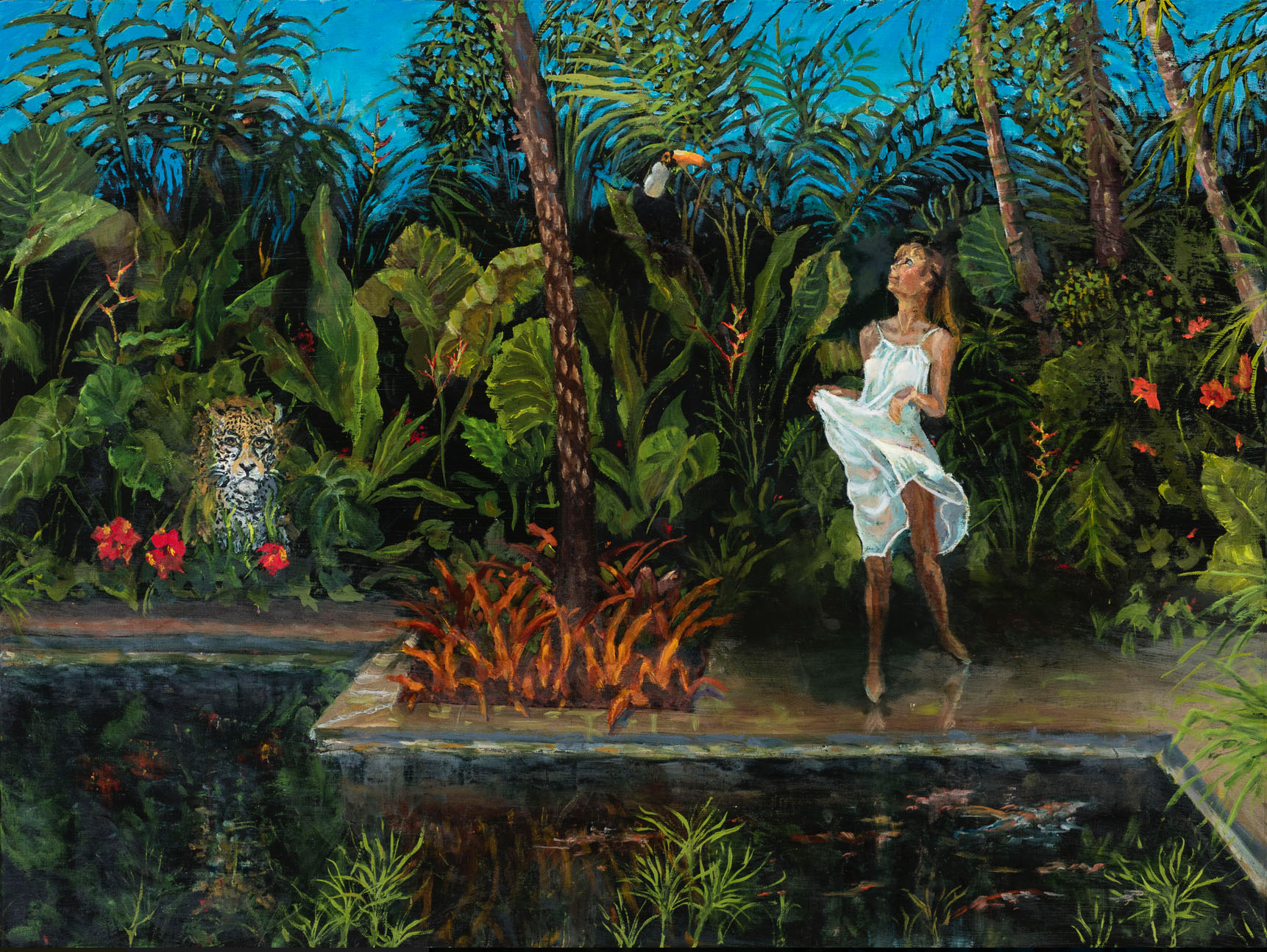 The Toucan by Joe Grenn
I have always painted by interpreting what I see. This month, I thought I would take a chance and have some fun (seems to be a current theme),  by creating my own composition, an imaginary scene, a place I'd like to be. It seemed like a good time to do it since I was featuring the amazing artist, Henri Rousseau this month.
 
As Picasso once said, "A good artist copies, but a great artist steals". So I photographed my garden, ripped pages out of magazines, borrowed images from everywhere, hired a way too expensive model (my wife, Kira) and put together The Toucan. It was probably the most fun I ever had painting. Hope you like it. If you don't (or even if you do), this your chance to be an art critic and email with your comments.
---
Henri Rousseau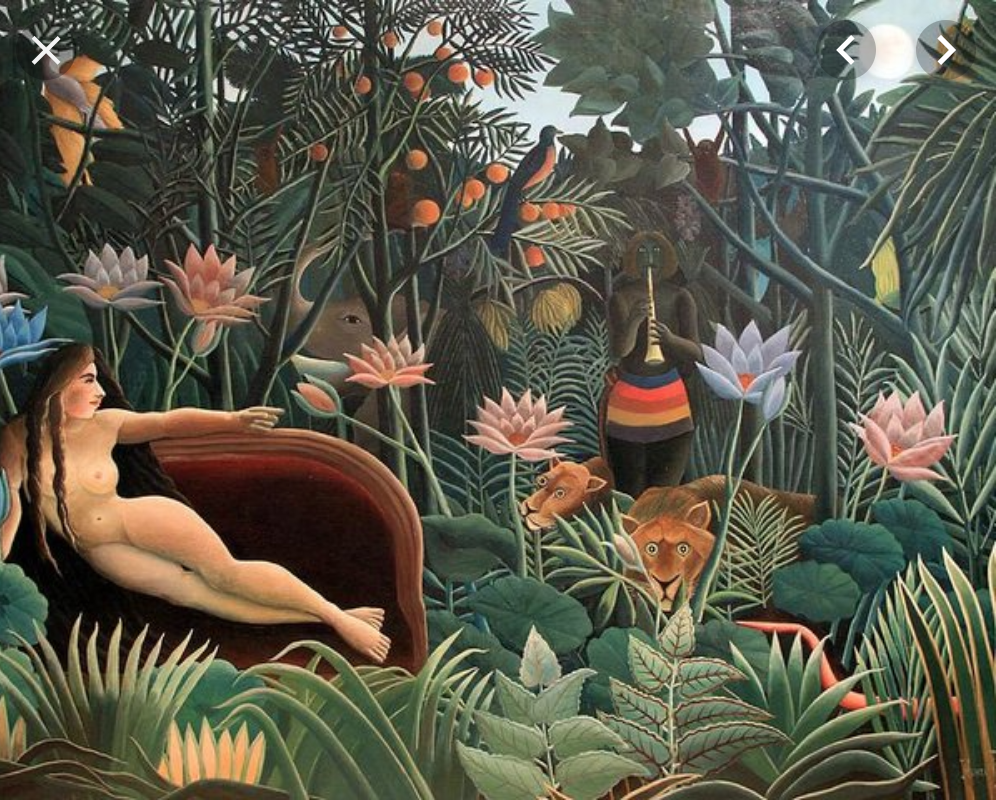 The Dream by Henri Rousseau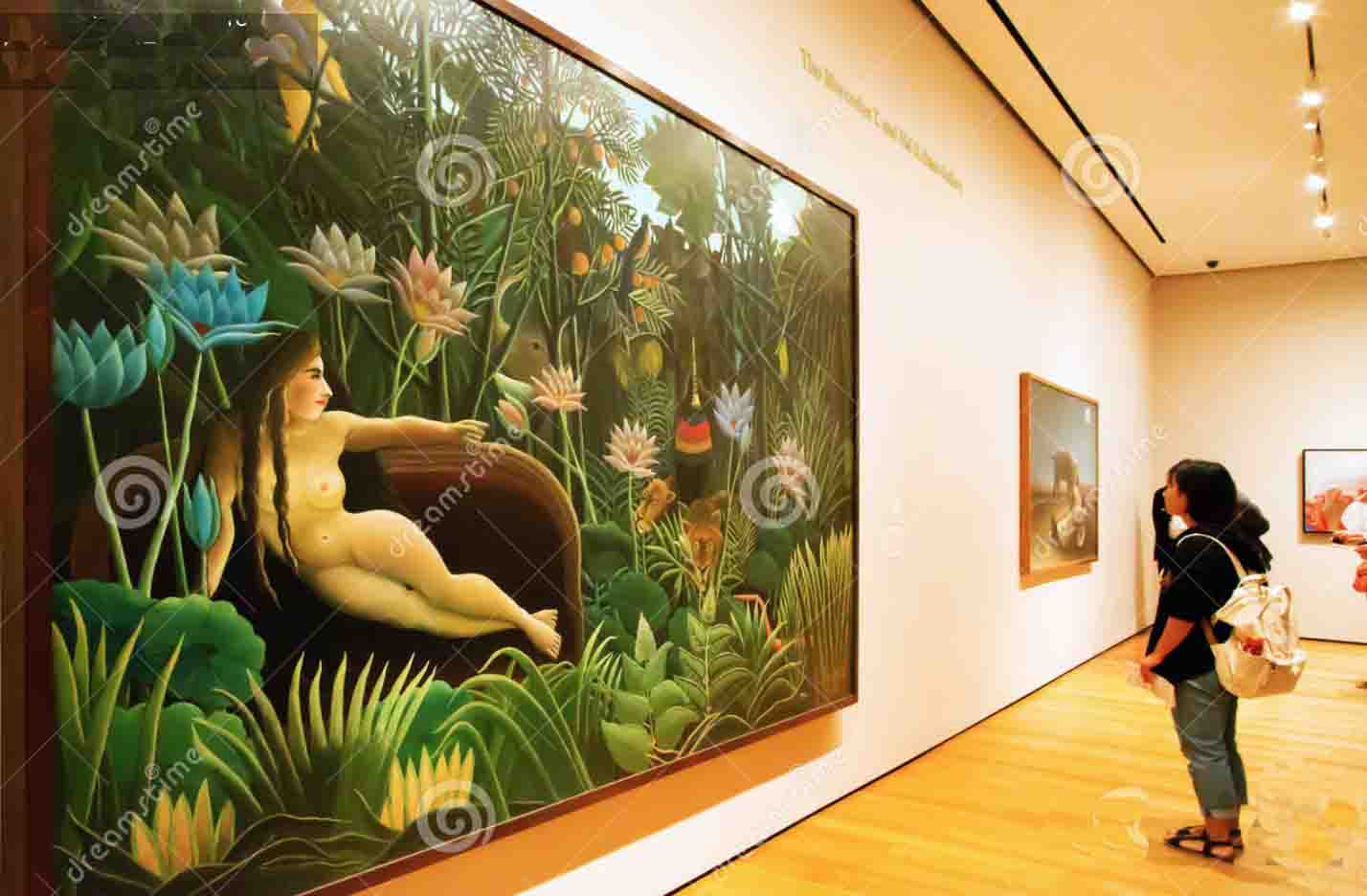 The Dream by Henri Rousseau on Display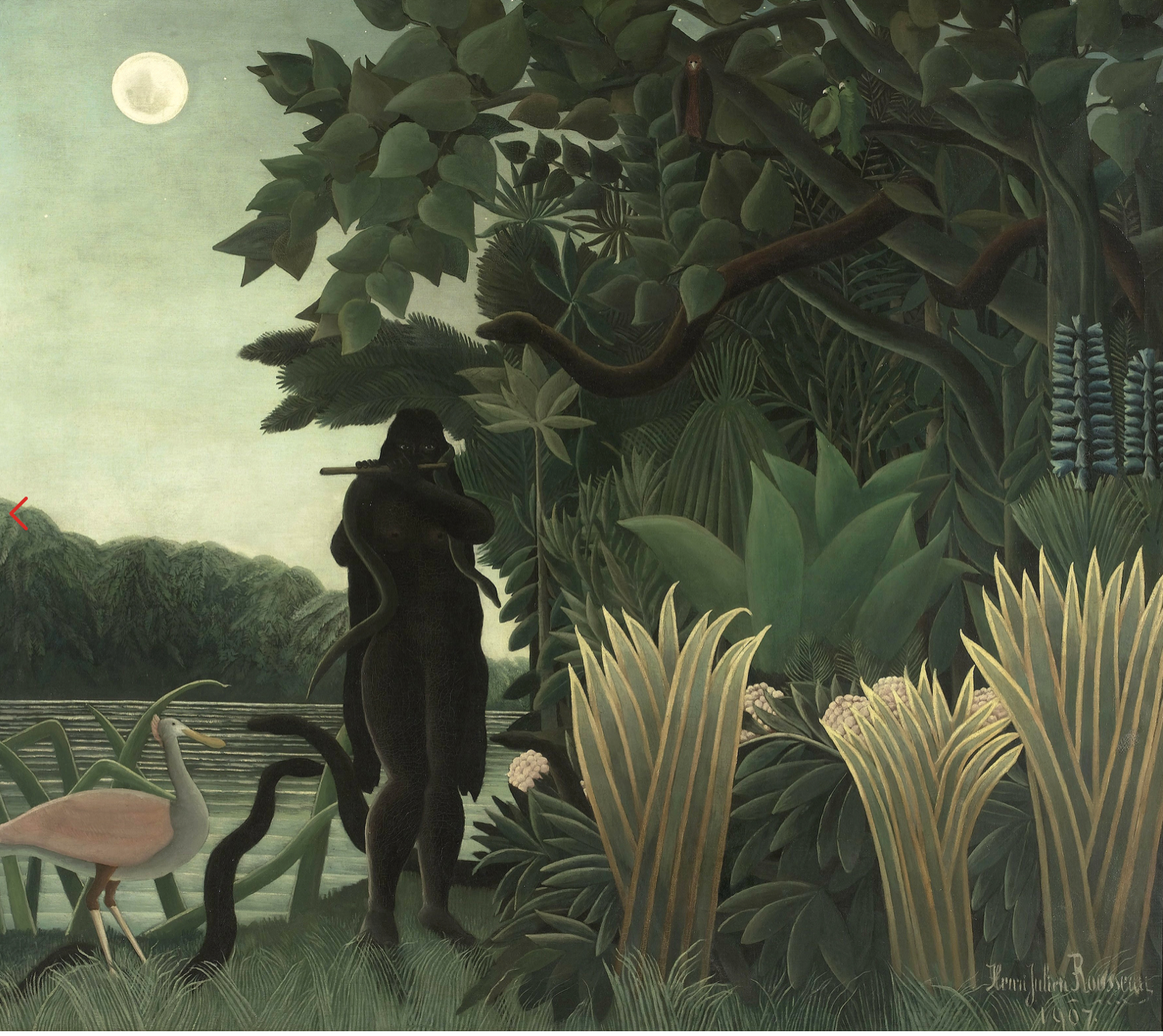 The Snake Charmer by Henri Rousseau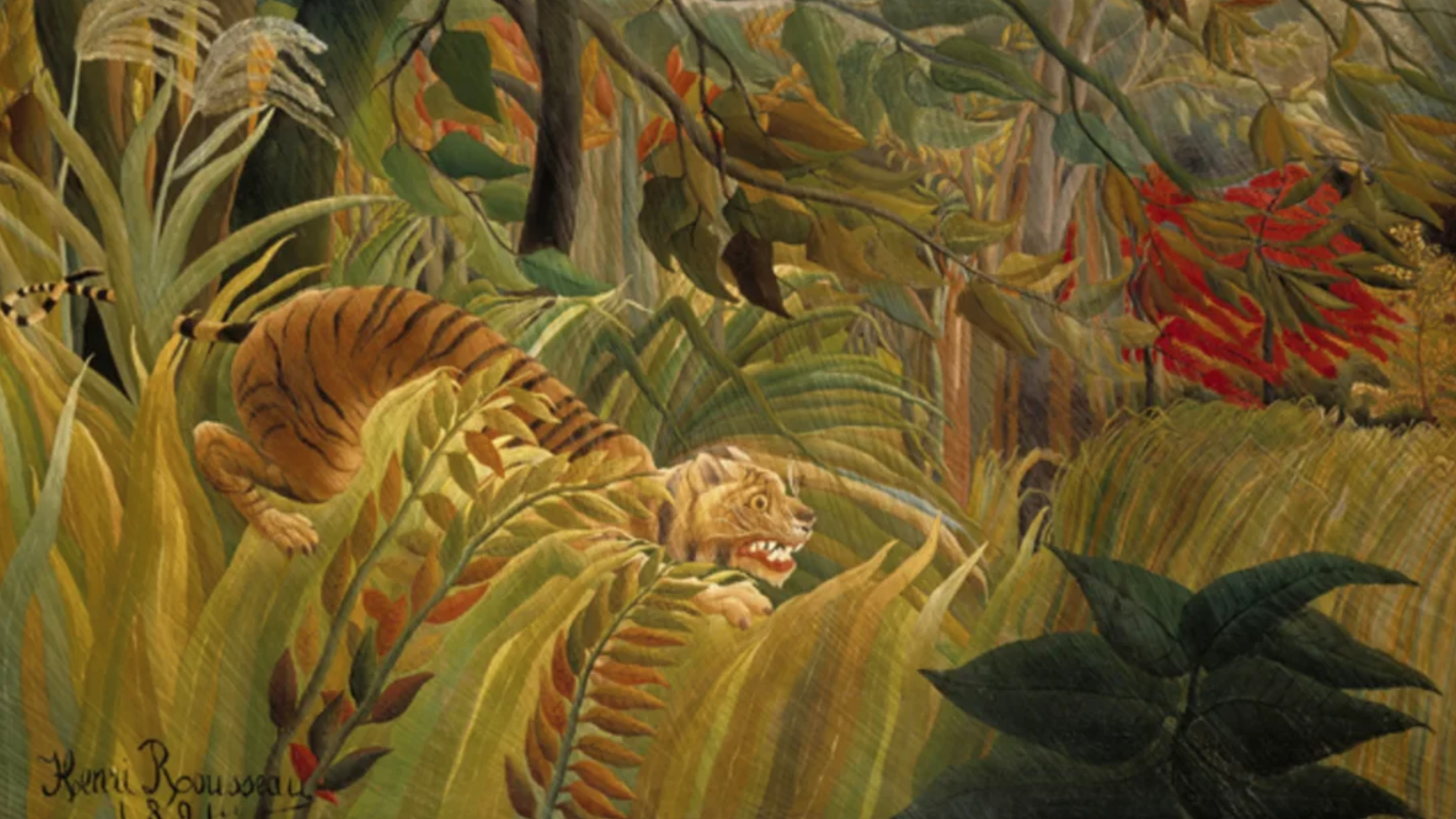 The Tiger by Henri Rousseau
You might say, Henri Rousseau, why Henri Rousseau?
Most people love or hate his work. I am of the former. What I love about him is that he created his art in solitude from his imagination as a self-taught amateur painter who didn't start painting seriously until he was forty-nine.
He once claimed he had "no teacher other than nature". My favorites are his twenty-five sometimes-gigantic jungle paintings (although he never saw a jungle) with primitive figures and animals (he used taxidermy specimens). His inspirations were derived from the artist's numerous visits to the glass houses of the Parisian Botanical Gardens, the Jardin des Plants. Rousseau described what he felt on those frequent visits. "When I go into the glass houses and I see the strange plants of exotic lands, it seems to me that I enter into a dream."
I entered one of his dreams when I saw his painting, The Snake Charmer at The Legion of Honor in San Francisco in September of 2010. As I went to view the last painting in the show, I was suddenly looking up at his ominous Snake Charmer. At its six by six-foot size, I felt like I could walk right into Henri's mysterious jungle.  The show, Van Gogh, Gauguin, Cézanne, and Beyond presented more than 100 paintings from the incomparable collection of the Musée d'Orsay, Paris, including Van Gogh's Starry Night. What a treat it was to go from a starry night to a jungle within minutes.
Henri Rousseau's was a professional toll taker in the French Customs service, so he was affectionately known as Le Douanier, the toll taker. He created a vast volume of wondrous mystical paintings to become a key actor in the development of postimpressionism (characterized by painterly qualities and strong color over the representational or realistic values retained by Impressionism).
After a life of anonymity, he eventually attracted the Parisian avant-guard when he exhibited at the Salon des Independents in 1885 at the age of 46. He became widely admired by Pablo Picasso and his circle for his fresh and direct vision, so obviously unaffected by academic training.
 
From 1886, he exhibited regularly in the Salon des Independants. As you may know, for a few years, the Impressionists were derogatorily labeled The Fauves, or the wild beasts (e.g. Henri Matisse). Mainly because they finished their paintings in one session, often outdoors.  The paintings of the Fauves were characterized by bold brushwork and vivid colors. Their subject illustrated a  new element of simplification and abstraction,  an extreme development of Van Gogh's Post-Impressionism.  Some experts say Rousseau's 
The Hungry Lion Throws Itself on the Antelope 
may even have influenced the naming of the Fauves.
From Henri Rousseau biography, Archived 24 October 2008 at the Guggenheim, we learn of Le Banquet Rousseau.
When Pablo Picasso happened upon a painting by Rousseau being sold on the street as a canvas to be painted over, the younger artist instantly recognized Rousseau's genius and went to meet him.
In 1908, Picasso held a half-serious, half-burlesque banquet in his studio at Le Bateau-Lavoir in Rousseau's honor labeled Le Banquet Rousseau, American poet and literary critic John Malcom Brinnin wrote "It was one of the most notable social events of the twentieth century, neither an orgiastic occasion nor even an opulent one. Its subsequent fame grew from the fact that it was a colorful happening within a revolutionary art movement." 
Richard R. Brettell tells us that guests at the banquet Rousseau included Leo and Gertrude Stein as well as a host of other now-famous artist and writers. French writer Andre Salmon  recalled the setting of the illustrious banquet: "Here the nights of the Blue Period passed… here one evening in the year 1908 unrolled the pageantry of the first and last banquet offered by his admirers to the painter Henri Rousseau called the Douanier."[
After Rousseau's retirement in 1893, he supplemented his small pension with part-time jobs and work such as playing a violin in the streets. Roberta Smith in the New York Times tells us that he also worked briefly at Le petit journal, where he produced a number of its covers. Rousseau exhibited his final painting, The Dream, in March 1910, at the Salon des Independants.
Whether you love him or hate him I hope you will recognize the art of the humble toll taker who made a place for himself in the history of art, painted from his amazing imagination and caused quite a stir in Paris.
---
Did You Know That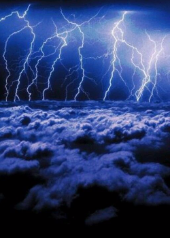 Sixty miles above the Earth's surface, is a mysterious region called the atmospheric ocean where the air crackles with electric current. It is the home of shooting stars, strange dancing jets of light- some long, thin and blue which are drawn all the way up from from the tops of thunderclouds deep below them. Others are giant blobs of red light with flailing tentacles. They are ultra-high forms of lightning with names such as elves, sprite and goblins and are part of the high electric layer, the big brother to the ozone layer, soaking up deadly rays from space which would deny life on earth. Sounds like a spectacular if not shocking place to visit.